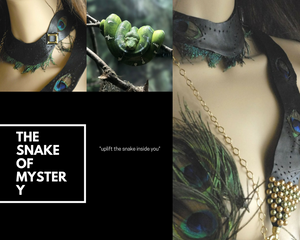 Snake leather necklace
Sale price Price $ 279.00 Regular price
Unique High Fashion necklace! Looks like a snake.
The necklace is made of genuine black leather, peacock feathers, gold plated, Swarovski crystal beads.Creation made ​​entirely by hand.
Elements 
Genuine leather
Swarovski crystals beads
Peacock feathers
All components are in 18 karat gold plated
Size & Dimension: Unique piece / One size fits all!
The length of the snake is approximately 760 mm.
 "The snake of mystery"
Uplift the snake inside you...
Only one copy available Number 987 signed by the artist.