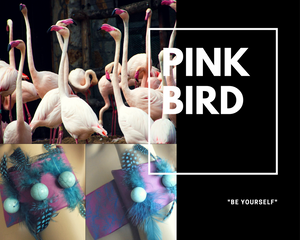 Pink leather cuff turquoise feather
Sale price Price $ 89.00 Regular price
Pink leather cuff turquoise feather
A fancy Pink cuff made of pink leather and turquoise feather.Some turquoise feathers are painted on each side of the bracelet.
Elements
Genuine pink leather
Turquoise beads
Turquoise and black feather
 Size & dimension: One size fits all! The cuff is adjustable
the cuff measures approximately 55mm* 160mm
 " Pink Bird" bracelet
Be yourself!
Only one piece available!