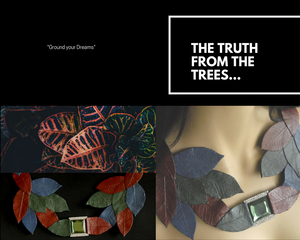 Necklace leaves
Sale price Price $ 229.00 Regular price
Necklace with leaves
This necklace is made of real leaves lined with leather and painted.
Elements
1  Swarovski crystals bead
1 Green Glass pendant
18 Karat gold plated chain and clasp
Leaves
Genuine  leather.
Size & dimension: One size fits all.
The necklace is mm long and mm broad.

"The truth from the trees"
Ground your dream...

Only one piece available number 116 signed by the artist.