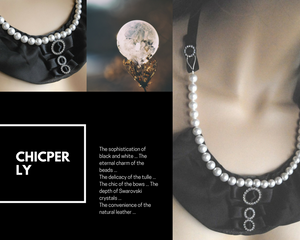 Long necklace black and white
Sale price Price $ 119.00 Regular price
Long necklace black and white
This long necklace comes with 31 white Swarovski crystals beads meticulously stitched by hand on black satin ribbons.The necklace is lined with genuine black leather.The pendant is adjustable you can wear it short or long.
Elements
31 White Swarovski crystals beads
1 Swarovski circle-20mm-approx
2 Swarovski circles-11mm-approx
Black tulle-155mm by 60mm-.
Black ribbons and bows.
Satin ribbons.
Genuine black natural leather.
Size & dimension
One size fits all.
The necklace is 155 mm long and 60mm broad.
The overall length (with satin bow) of the choker is 1800 mm.

"Chicpearly"

The sophistication of black and white ... The eternal charm of the beads ...
The delicacy of the tulle ... The chic of the bows ... The depth of Swarovski crystals ...
The convenience of the natural leather ...

All these advantages allied with each other generating this super long locket.
It will go completely with your preferred black outfit!
Only one piece available number 629 signed by the artist.