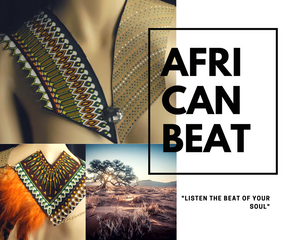 Necklace african
Sale price Price $ 229.00 Regular price
Necklace African
This necklace is made of leather and African fabric. The leather is painted.
Elements
African Fabric
1 hematite bead
18 karat gold plated chain
Orange feathers
Genuine beige leather.
Size & dimension
One size fits all.
The necklace is mm long and mm broad.

"African Beat"

 Listen the beat of your soul...
 Only one piece available number 114 signed by the artist.