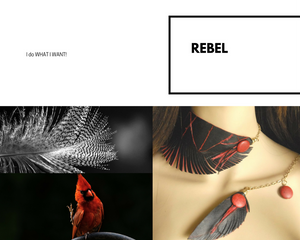 Black and red choker
Sale price Price $ 149.00 Regular price
Black and red choker.
An unique necklace fully realized by hand.The choker is made of genuine black and red (lined) leather with red feathers.You can wear the chain in the back or front depending on your outfit
Elements
5 red turquoise beads: 20 mm of diameter each.
Chain 18 karat gold plated.
Red & Black feathers.
Genuine black natural leather.-Claps 18 karat gold plated: 15 mm of diameter.
Size & dimension.
One size fits all (necklace is adjustable).The choker is approximately 250 mm length and 90 mm width.The length of the chain is 530 mm, pendant: 110 mm.

 'Rebel' choker
I do what I want! ......
Only one copy available Number 638 signed by the artist.