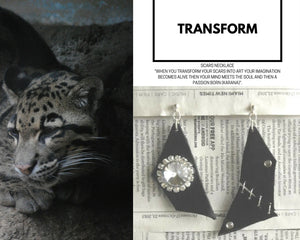 Earrings asymmetric black
Sale price Price $ 79.00 Regular price
Earrings asymmetric black
Earrings made of genuine black leather,
One is with Fancy diamond and the other with diamond nails.
Elements
- Components are in sterling silver.
- One fancy diamonds: 25 mm of diameter.
- Genuine black leather.
- Nails in metal with fancy diamonds.
Size & Dimension
The length of earring with diamond is  90 mm
The length of earring with nails is 100 mm.
'Scars " Earrings
"When you transform your scars into art your imagination becomes alive then Your mind meets the soul and then A passion born (Karana)".
Only one pair available!