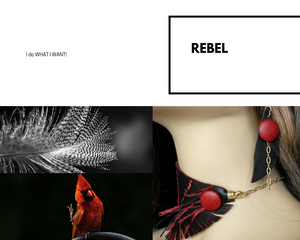 Earrings red and black leather
Sale price Price $ 89.00 Regular price
Sorry this Necklace has been sold!
As an artist I can create anything you desire or customize a piece that you like to match with your outfit or your taste! So if you would like something unique just for yourself or someone that you love .I will be more than happy to create your own unique jewelry.
Earrings red and black leather
Earrings made of genuine black and red leather,
Elements
Components are in 18 karat gold plated
2 red turquoise beads: 20 mm of diameter.
Genuine black leather lined by genuine red leather
Size & Dimension
The length of earrings are approximately 112 mm.
'Rebel' Earrings
I do what I want!!!
Only one pair available!