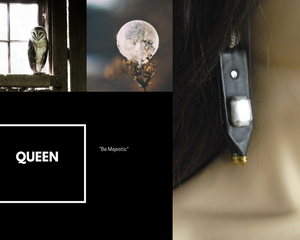 Earrings gold and silver
Sale price Price $ 79.00 Regular price
Earrings gold and silver
Earrings made of genuine leather,
One has a rectangle silver and the other has one in gold.
Elements
- Components are in 18 karat gold plated
- Nails are in gold metal
- 2 rectangles in metal and gold and silver leather.
- Genuine black leather
Size & Dimension
The length of earrings are approximately 115 mm.
'Queen " Earrings

Only one pair available!