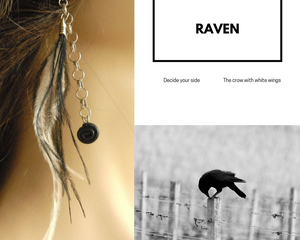 Earrings black and white feathers
Sale price Price $ 79.00 Regular price
Earrings black and white feathers
Earrings in sterling silver with black and white feathers, and pendant in shape of roses in black leather.
Elements
Components in sterling silver.
Chain in sterling silver deep in rhodium: 45 mm.
Black and white feathers
Black roses in leather
Size & Dimension
The length of earrings are approximately 90 mm.
'The crow with white wings " Earrings
Decide your side...
Only one pair available!