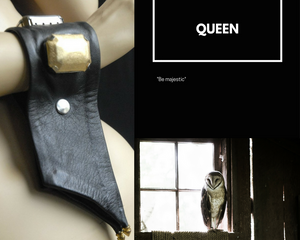 Black leather cuff
Sale price Price $ 129.00 Regular price
Black leather cuff
Black leather cuff decorated with gold and silver rectangular buttons made of genuine leather 
The cuff close with a firm hand pressure, the size is unique.
Elements

-3 gold and silver squares in metal and leather: 30 mm *45 mm.

-Genuine black natural leather.
-Nail and claps in metal.
Size & dimension.

One size fits all!
The bracelet  total length is 400 mm.
From the male to female claps the length is approximately 190 mm.
"Queen" Bracelet

Unique design ... Queen provides a look ....!
Be Majestic with this unique cuff!

Only one available number 564 signed by the artist.