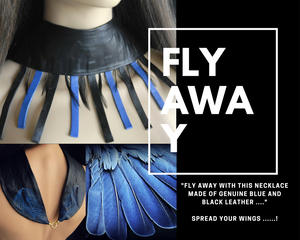 Blue and black leather Necklace
Sale price Price $ 239.00 Regular price
Blue and black leather Necklace: "Blue Eagle" Necklace
Necklace in leather with fringes black and blue with black feathers. High Fashion necklace with wings painted on the back.The wings close together with an 18 Karat gold plated clasp.
Element
Black and blue leather
Claps in 18 karat gold plated: 15 mm of diameter.
Size & Dimension
The necklace measures 7cm wide.
The fringes are about 10cm each.
The total length is about 69cm.
Spread your wings ......!
Fly away with this necklace made of genuine blue and black leather ....
One one piece available number 922 signed by the artist.