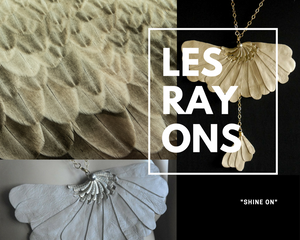 Beige leather necklace
Sale price Price $ 189.00 Regular price
 Beige leather necklace
Unique designer necklace made of genuine beige leather.The plastron has a pendant.
Elements
 All components are in 18 karat gold plated
 Genuine beige leather
Size & dimension: One size fits all! Necklace can be adjustable.
The length is approximately 530mm
The principal pendant measures: 105mm*200mm
The small pendant measures: 75mm*55mm
" Les rayons de l'aile " Necklace.
Only one piece available number 257 signed by the artist.