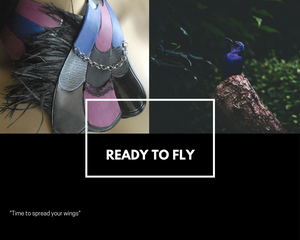 Wings necklace pink, blue and black
Sale price Price $ 175.00 Regular price
Wings necklace pink, blue and black
High fashion wings necklace. The necklace is handmade with quality materials such leather,
feather, sterling silver, lace  and Swarovski 
Genuine leather
Plastic
Black feathers
All components are in sterling silver
Swarovski bead
Black lace
Size & Dimension: Unique piece / One size fits all!
The length of the snake is approximately 260 mm * 125mm.
"Ready to fly necklace"
The accessory makes the outfit!
Only one copy available Number 975 signed by the artist.