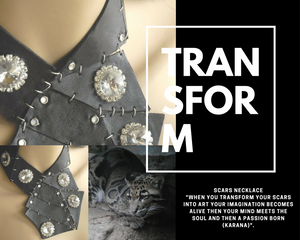 Black leather necklace with fancy diamonds
Sale price Price $ 149.00 Regular price
Black leather necklace with fancy diamonds
Necklace made of genuine black leather,with fancy diamonds and diamond nails.
Elements
Components are in sterling silver except for the chain and jump rings there are in metals.
Fancy diamonds: 25 mm of diameter.
Genuine black leather.
Nails in metal with fancy diamonds.
Size & Dimension: One size fits all! The necklace is adjustable.
The length of the necklace is approximately 200mm.
'Scars' necklace
"When you transform your scars into art your imagination becomes alive then Your mind meets the soul and then A passion born (Karana)".
 Only one piece available number 112 signed by the artist.